I expect to have a complete SaaS solution
Can I back up my SaaS/Self-hosted services?
Yes, GitProtect offers vast support for DevOps tools: GitHub, GitHub Enterprise Server, Bitbucket, Bitbucket Data Center, GitLab, Gitlab Self Managed, Jira Cloud, Jira Work Management, and Jira Service Management.
I have specific requirements in terms of deployment. What are the available options?
GitProtect.io is built to meet all your needs and requirements - even the most demanding ones. Thus, depending on your compliance or organizational demands, you can choose the place where to install and run your GitProtect.io service - SaaS or On-premise.
If you opt for the SaaS deployment model, the service will be run within the provider's cloud infrastructure, so there is no need to allocate any additional device to be used as a local server. GitProtect.io will eliminate your responsibilities for maintenance and will guarantee the continuity of operation.
In the case of GitProtect.io On-premise deployment, you install the service on a machine of your provision that will work in your environment - your preferable cloud service like AWS lub Azure, etc., or a physical data center.
Can I store data on my own storage?
As a multi-storage system, GitProtect.io permits you to assign as many storage instances as your policy requires. You can use cloud storage like AWS, Wasabi, Azure Blob, etc.- can add any storage compatible with S3 - or choose a preferable NAS vendor and many more.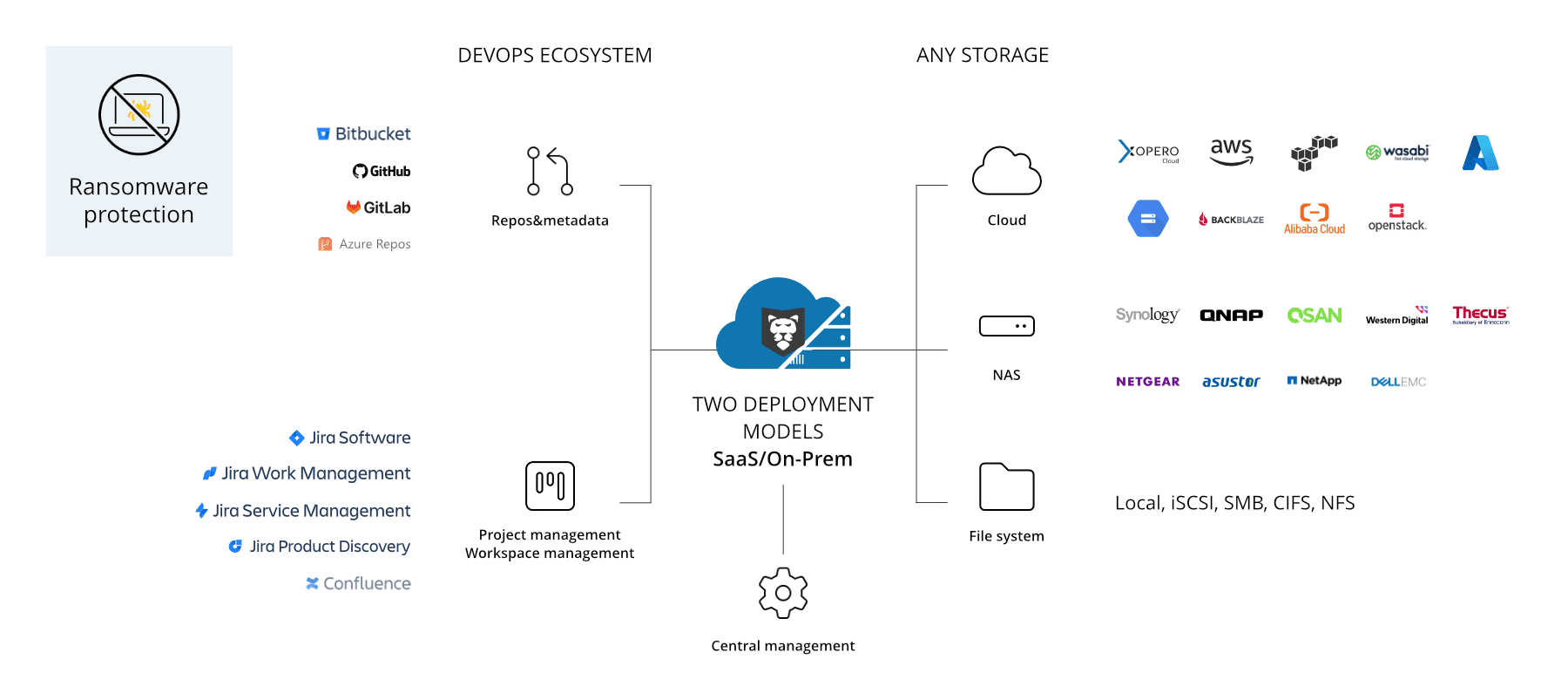 What's more, once you set up your GitProtect.io account, you always get unlimited GitProtect.io Cloud Storage for free regardless of your backup policy. So, you can start protecting your data immediately.
Moreover, it's important to note that the location of backup copies is independent of the location where GitProtect was installed and runs (your management server). It means that even with an On-Premise service you may store your data in the cloud, and, conversely, locally with a SaaS-based management service.