Here at GitProtect.io, we are grateful users of many Open Source projects and Non-profit Organizations. We believe your software is shaping a modern, fast-changing digital world. That's why we want to give back to the community and ensure you with the most secure development process and your source code accessibility and recoverability.
If you have an Open Source project or NGO and host your repositories and metadata on GitHub, GitLab or Bitbucket - we encourage you to benefit from the most professional, automatic, and fully manageable repository backup and recovery software - GitProtect.io. Use this form to apply for a FREE plan.
Conditions for your secure open-source code
Do you have the open-source project hosted on GitHub repositories? Perfect, there are a few steps left to make it secure and recoverable.
1. Verify if your project meets our criteria.
2. Sign up for a free trial and connect GitProtect.io with your hosting service provider.
3. Add at least one backup plan.
4. Apply for the free plan for one year with this form.
5. Give us 10 business days to review and respond.
6. Add a reference that GitProtect.io is protecting your project - share it on Twitter tagging @GitProtectio, or add a link to your README file/website displaying the Gitprotect logo with a backlink to www.gitprotect.io.
7. Your licenses need to be renewed annually. We will stop backing up your repositories and metadata if you don't renew.
Build your open-source code peacefully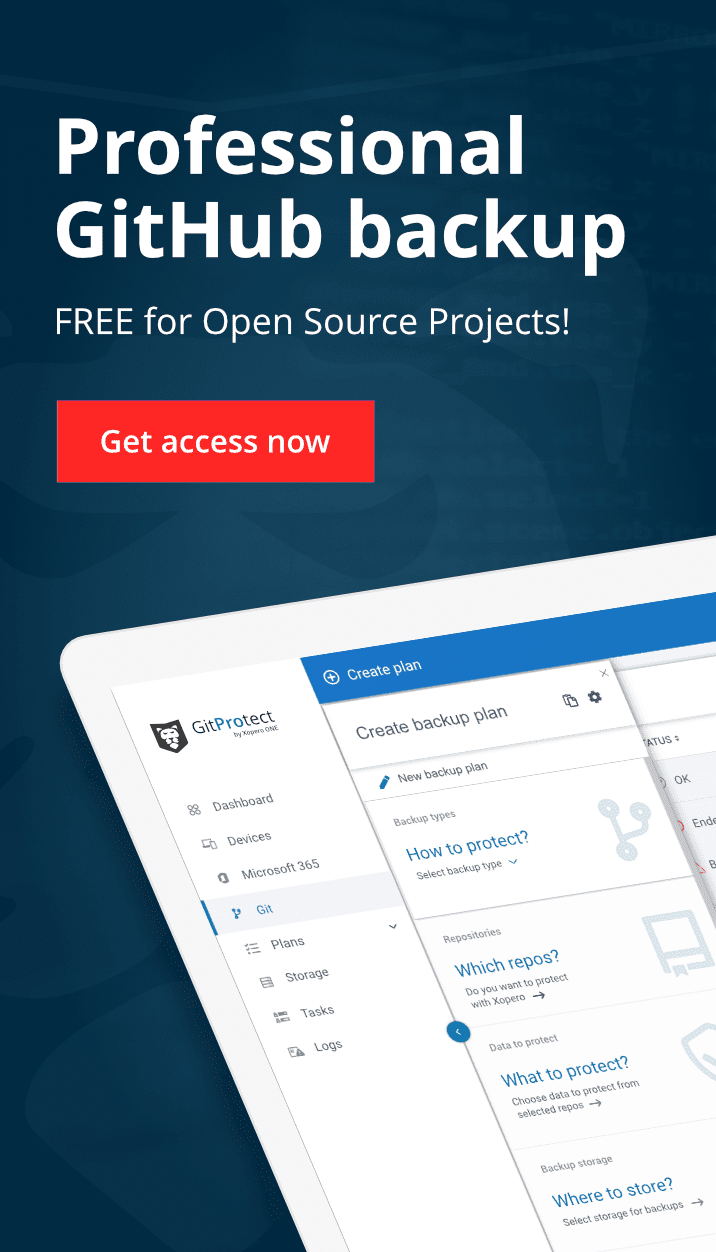 Why backup source code?
- Errors (human or hardware) - HEAD overwrite, branch deletion, (un)intentional developers mistakes, old repository deletion, hardware loss/breakage/theft, and more
- Service outages and downtime
- Accidental data deletion by service providers
- Internal bugs and vulnerabilities of service providers
- Ransomware attacks and repositories content wiped out
- Malware attacks
- Account deletion or block
- …and much more…
Product Key Benefits
Automated GitHub Backups
Simply go to GitHub Marketplace, choose the free Open Source plan, and add your public repositories to instantly protect your data. New repo? It will be automatically added to your backup plan and schedule. Don't waste time and money to maintain your own backup scripts.
Flexible recovery options
Recover GitHub repositories with all or chosen metadata - directly to your GitHub account, or crossover. Simply browse your copies, search for data to restore, and perform fast, point-in-time, granular recovery or restore the entire ecosystem with reliable, instant Disaster Recovery options.
Central management - focus on code
Reduce time spent on writing and maintaining unsure backup scripts. Automate your data protection, manage it centrally, add new admins, and grant permissions. Focus on meaningful contributions - we've got your backup!
Military-level security
Advanced audit logs, SOC1 and SOC2 in process, AES agent-side encryption, and no-point-of failure infrastructure - here comes the military-level security to protect your outstanding commitment to the world of code.
Build your open-source code peacefully - we've got your back(up)!
More: Terms and Conditions