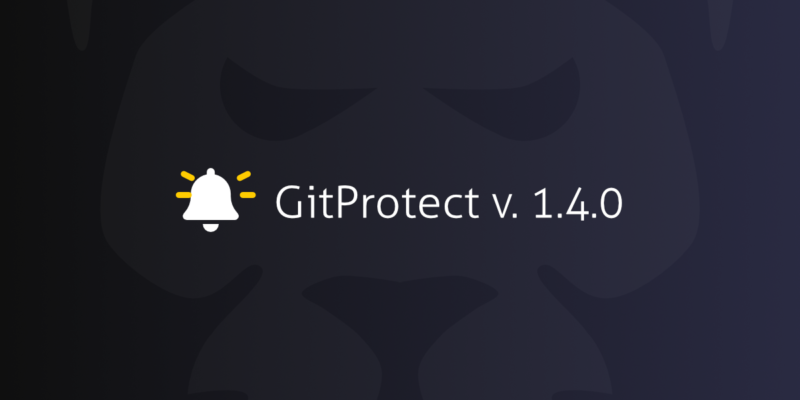 GitProtect 1.4.0 – Immutable Storage, Jira Restore to a Local Device, and Compliance Reports
GitProtect version 1.4.0 is now available! It brings immutable storage that enriches the Ransomware Protection package and your resistance to any cyber risk. Moreover, it brings a bunch of brand-new features and improvements that will fasten DevOps backup policy configuration and ease monitoring for compliance and audit readiness. And unlike other providers, we now enable you to restore your Jira data directly to local devices.
Immutable S3 storage for cyber-resistance
We are introducing support for S3-type immutable storage as a location for GitProtect DevOps backups. Datastores of this type allow you to freely save and read data, but their modification and deletion are possible only after meeting the retention policies set for the bucket. From now on, keep your data as long as you need it without worrying that the file will be modified or deleted. Gain an even greater level of security and a guarantee that ransomware will not encrypt the copy kept in your storage. Note: the feature is available for AWS, Wasabi, BackBlaze B2, and Google Cloud Storage.
Restore Jira data to your local device
You can now restore your Jira data as a file. So, unlike other providers, we enable you to restore your Jira data directly to local devices. You are not limited to restoring data to the same or a new account in Jira. However, as a reminder, you also have the option. Moreover, you can restore data to a free account with the no-user recovery option.
Restoring to local devices will certainly provide you with greater resilience to Atlassian's availability interruptions and ensure your DevOps processes' continuity.
Daily reports for compliance purposes
Instantly verify DevOps backups based on daily reports on completed and ongoing tasks. Get easy access to information such as the statuses of tasks within the plan, the size of the transferred data, and backup duration. Define different recipients for reports from specific plans and control information flow.
Most importantly, daily reports facilitate monitoring and compliance with legal requirements and security standards. They prove to be extremely useful for audits and security checks – you have all important data and statistics at your fingertips.
Backup of repositories based on rules
When creating a backup plan, you can now define rules to be met by the backed-up repositories. Then repos are dynamically selected from a specific organization. In short, all you have to do is to specify a rule and then create repositories with a matched name to be then included in the next backup. This feature greatly facilitates the automation of backup management.
What's more?
Daily schedule for even easier configuration of the backup policy,
Support for the new region – Wasabi AP Southeast 2 (Sydney),
More intuitive presentation of the number of GitLab groups and subgroups,
and many more.
Start 14-day free trial or log in to GitProtect now.