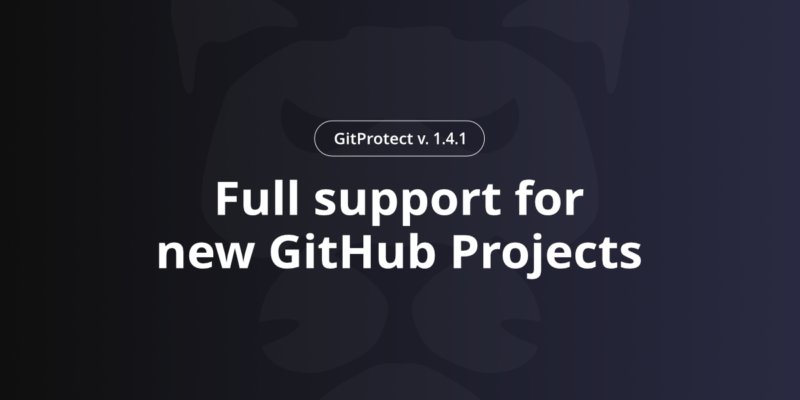 GitProtect 1.4.1 supports new GitHub Projects
Do you use GitHub Projects? If so, you probably know that recently GitHub released a new version of Projects. And now, you can back them up with GitProtect.io to ensure uninterrupted planning and tracking work on GitHub.
We support projects both directly assigned to the user and to the organization so you can instantly secure and restore issues and pull requests (except issues drafts) – both in new and regular versions of GitHub Projects.
NOTE! Action required!
Together with support for a new type of GitHub Projects, the scope of required permissions for GitProtect OAuth and the previously generated Personal Access Token has also changed. All GitHub backup jobs require reauthorization of the application and/or generation of a new Personal Access Token.
For proper operation, it is necessary to re-authorize the GitProtect application, which will allow the application to grant the necessary permissions: project (full control of projects).
If you use Personal Access Token – authorize in your GitHub account
If you use OAuth authentication – authorize in GitProtect account
We also recommend checking our Knowledge Base to find out more about how to prepare an additional account and Personal Access Token in GitHub and required permissions for GitHub users and token.
GitProtect, therefore, supports both versions of GitHub projects – new and regular.
Why backup GitHub or any other DevOps tool? Let's just say that 2022 was not the best year when it comes to issues and vulnerabilities. The infamous Jira outage lasted almost two weeks. The best approach is to learn from past mistakes – and even better if they are not our own. So check the GitHub security incidents 2022 overview and find out what problems have been encountered by GitHub Team last year.