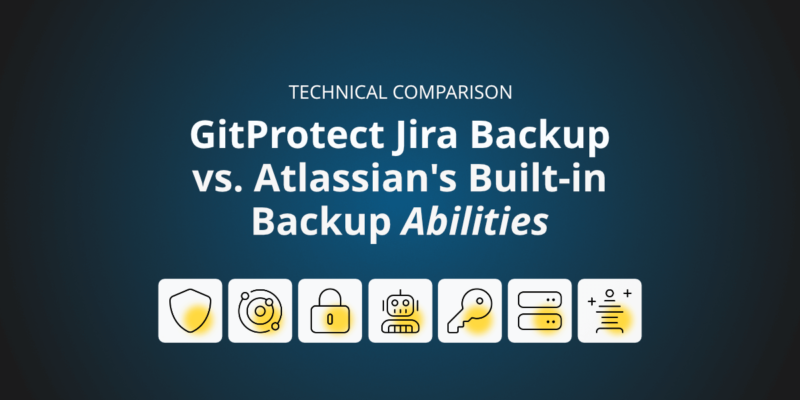 Decoding the Ultimate Choice: GitProtect Jira Backup vs. Atlassian's Built-in Backup Abilities
Atlassian is like a hub for software engineers, project wizards, and action-driven teams. Lots of users, especially Jira enthusiasts, gather around this platform to fuel their business engines. That's why keeping your Jira data safe and handy is a big deal. And that's where a trusty Jira backup comes in.
This article is your compass, guiding you through a detailed showdown of a third-party Jira backup software – GitProtect and the native database backup tools Atlassian brings to the table: Jira Backup Manager and CLI Backup Solution for Jira.
Table of content

Reasons for Performing Jira Backup
Atlassian's Shared Responsibility Model
Jira Backup Manager: A Technical Insight
CLI Backup Solution for Jira
GitProtect Jira Backup
Comparison of Functionalities
Conclusion
Reasons for Performing Jira Backup
Jira backup software should ensure Jira Cloud data protection and security of data. Regular performing backups have the impact on the following:
Data Protection and Security: Ensure the safety and security of critical DevOps data.
Business Continuity: Maintain seamless business operations by having a complete backup of all the data.
Regulatory Compliance: Comply with data protection regulations by having a backup strategy in place, meet internal regulations, and Atlassian Cloud Shared Responsibility Model.
Mitigate Data Loss: Minimize the risk of data loss due to hardware failures, software glitches, developers' mistakes, or service outages.
Point-in-time recovery: Prepare for unforeseen events such as natural disasters or cyberattacks that could lead to data loss – restore the entire Jira account (even with no user recovery option), or take advantage of granular restore of only chosen items.
Avoid Downtime: Quickly restore data to prevent prolonged downtime in case of data loss.
Test and Development: Utilize backups for testing new configurations or developments without affecting live data.
Auditing and Compliance: Maintain records of historical data changes for auditing and compliance purposes.
Peace of Mind: Have confidence that critical data is protected and recoverable when needed.
Find out more about the Top 6 threats to your Jira data.
Atlassian's Shared Responsibility Model
For all Jira Cloud users, Atlassian performs regular snapshots of its entire platform. However, the situation is not as straightforward. Under the Cloud Security Shared Responsibility Model, Atlassian assumes the role of ensuring server provider business continuity by backing up its platform and infrastructure-level data. Your responsibility comes into play when it comes to backing up your Jira account data.
"We do not use these backups to revert customer-initiated destructive changes, such as fields overwritten using scripts, or deleted issues, projects, or sites. To avoid data loss, we recommend making regular backups."

Source: Atlassian Cloud Security Shared Responsibilities whitepaper
This is Atlassian's stance as outlined in its Security Practices. With these considerations in mind, the choice of a backup method rests with you. This article explores various options to assist you in making an informed decision.
Find out our article with Atlassian Cloud Security Shared Responsibilities explained.
Jira Backup Manager: A Technical Insight
Backup Manager, crafted by Atlassian, addresses some basic data protection needs within the Jira ecosystem. It enables snapshots of Jira instances, ensuring some of Jira data remains secure even during unexpected challenges. It performs the every-time manual export of pages and users every 24 hours or every 48 hours with attachments. However, you need to invest in your own environment and bring your own storage to assign it for snapshot purposes.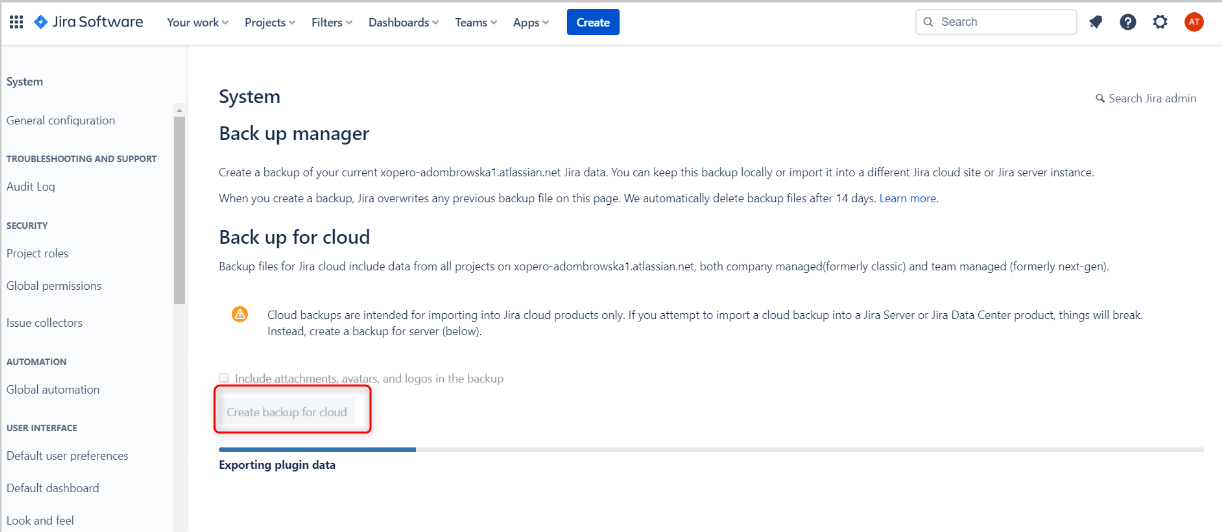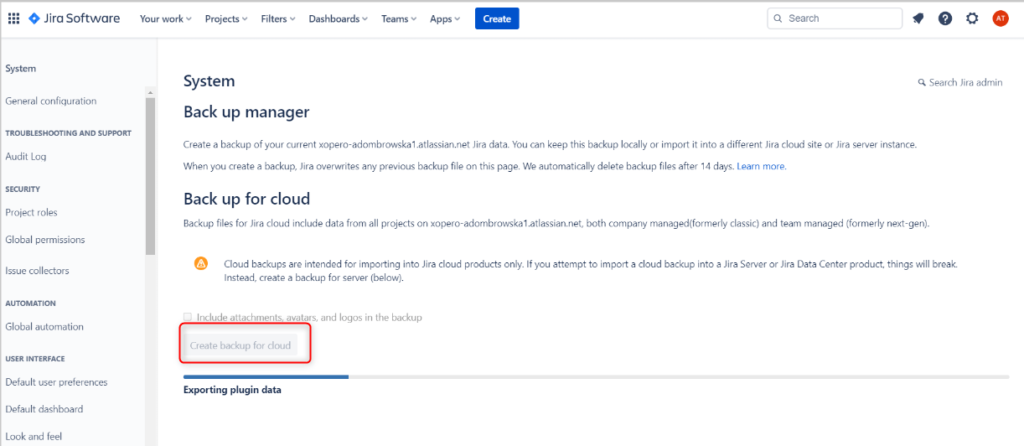 Key Features and Functions
Back-up for Cloud: Backup files for Jira cloud include data from all projects on your Atlassian's site, both company-managed and team-managed.
Back up for Server: If you attempt to import a cloud backup into a Jira Server or Jira Data Center product, things will break. Instead, create a backup for server.
Enhanced Security: AES 256 encryption secures data in transit and at rest, meeting stringent security regulations.
Despite its functionalities, it is also important to be aware that Jira Backup Manager has the following limitations:
Limited data coverage – Backup Manager protects only pages, users (with user group settings), and (if selected) issue attachments, user avatars, and project logos, potentially leaving other critical data unprotected.
Manual Export and Scripting Required: Backup Manager requires manual imports/exports every 24 hours (or every 48 hours with attachments included). The lack of built-in automation necessitates custom scripting for scheduling snapshots. It requires engineering time to develop, maintain and manage those scripts – and as a consequence, high long-term costs.
Additional infrastructure cost: Jira Backup Manager doesn't provide any storage for snapshots. You need to bring your own storage to keep and version them – and as a result, incur an additional cost that increases over time.
Lack of Cloud Storage: Users need to store backup snapshots in their environment, lacking the convenience of cloud storage and potentially incurring storage costs.
48-Hour Attachment Export Limit: Backups with attachments can only be exported every 48 hours, limiting data protection frequency and responsiveness.


Account-Level Restoration Only: Restores can only be performed at the account (site) level, without support for item-level restoration, leading to potential data loss during recovery.
Complex, manual restore: The restoration process involves manual steps including unzipping, organizing, and executing the restoration by imports, increasing complexity and potential errors.
Account-level imports – The backup Manager considers restores as imports. Additionally, it can be performed on the account level with no granular restore possible (single item-level). All or nothing.
CLI Backup Solution for Jira
The CLI Backup Solution provides a command-line interface that allows users to perform Jira backups using commands executed through a terminal. This approach can appeal to technically inclined users who are comfortable with command-line operations and scripting.
WARNING: Backup CLI for Jira and Confluence Cloud is still in the Early Access Program release for years already and Atlassian recommends not using it for production environments.
Key Features and Functions
Using the CLI Backup Solution requires familiarity with command-line interfaces and scripting. Organizations need staff with the technical expertise to operate and maintain the backup process. This can be a significant hurdle for non-technical team members, potentially slowing down operations and increasing the risk of errors.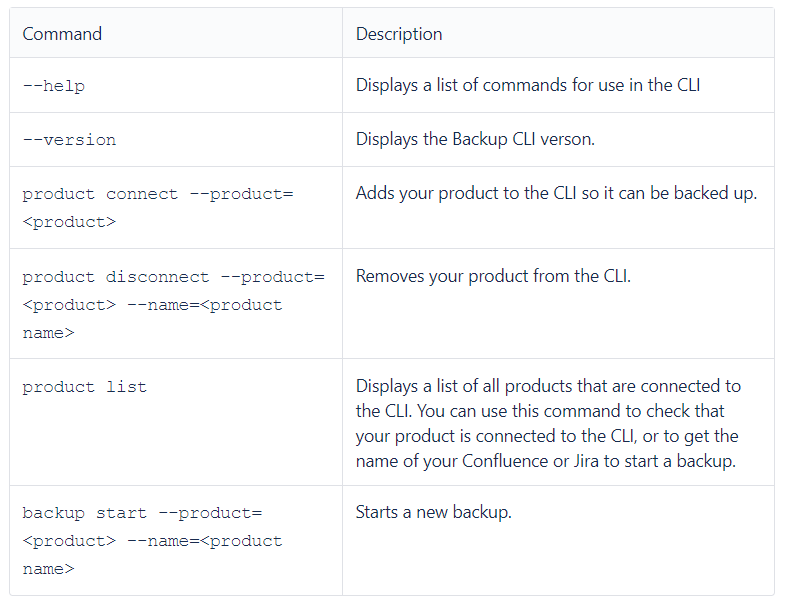 To achieve automated backups, organizations need to develop and maintain custom scripts, increasing the demand for engineering resources and expertise. Configuring backup parameters and settings through the CLI requires careful attention to detail. Any misconfiguration during setup could lead to incomplete or faulty backups. This manual configuration process is error-prone and can consume valuable time that could be better spent on other tasks.
What is more, CLI Backup Solution's lack of built-in monitoring and reporting capabilities makes it difficult to track the status and success of backup operations. Organizations may need to develop additional scripts or tools to provide the necessary visibility into the backup process.
GitProtect Jira Backup
GitProtect Jira Backup is a native solution designed to protect your Jira Software, Jira Work Management, and Jira Service Management data against potential cyber risks and data loss. By seamlessly automating the backup process and incorporating advanced security measures, GitProtect ensures that your critical information remains secure, accessible, and recoverable – on unlimited, free cloud storage included. Let's delve into the features that set GitProtect apart as a reliable guardian of your Jira data.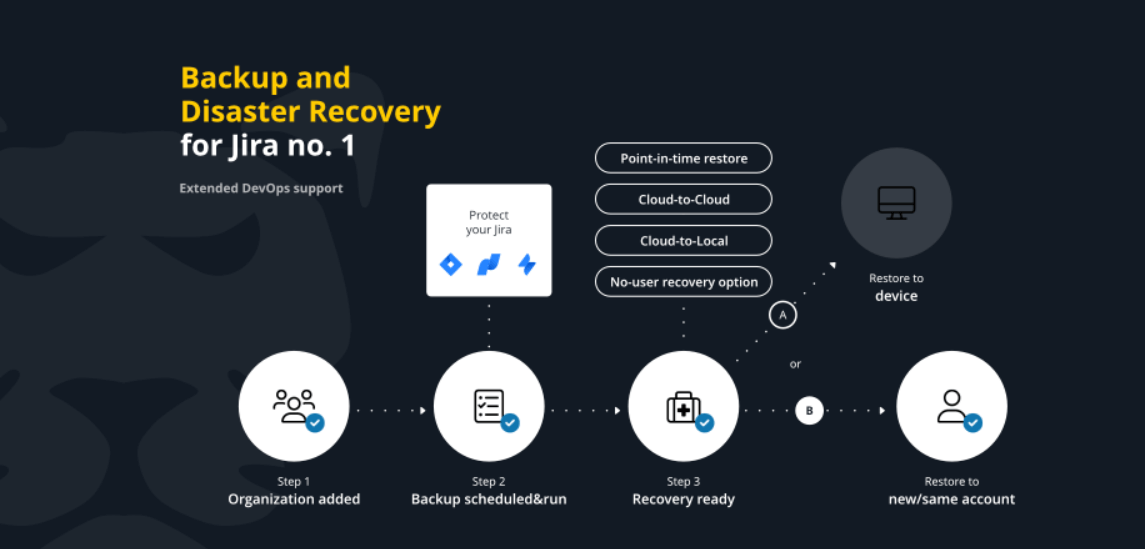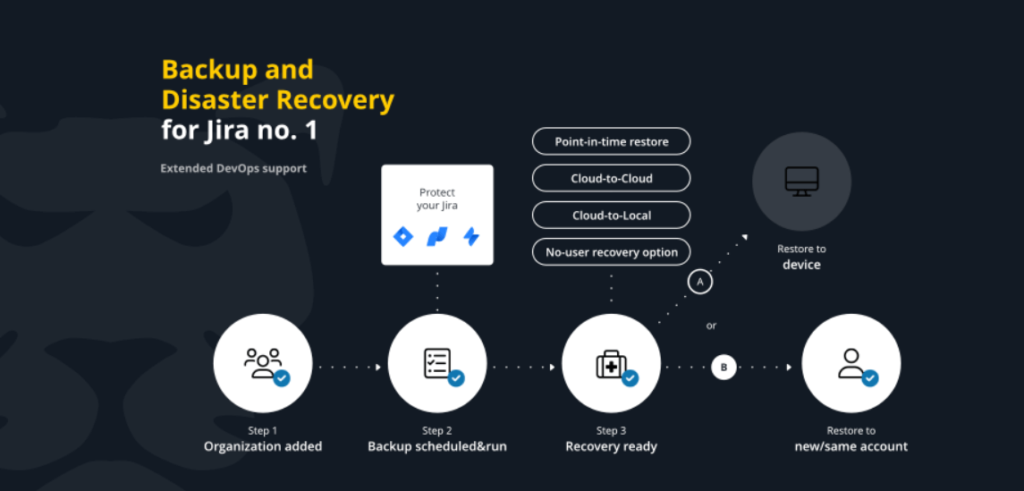 Automated Jira Data Protection
GitProtect simplifies the backup process through its automated features. By implementing backup based on policies and a flexible scheduler, businesses can automate backup performance and adjust it to internal policies. Say goodbye to manual exports – GitProtect keeps your data reliably protected, eliminating the need for your direct involvement.
Unbreakable encryption and data security
Security and compliance are ingrained within the core of GitProtect. Utilizing AES 256 encryption (considered unbreakable) with your own encryption key, in-flight and at-rest encryption, data replication, immutable storage, and ransomware protection – security is the company's DNA.
Granular Restore and Disaster Recovery
GitProtect removes the anxiety surrounding data loss, outages, or human errors. Granular restore of only chosen objects comes in handy in everyday operations (for example – in the case of accidental deletion). Disaster Recovery technologies, on the other hand, make Jira resistant to any downtime, enabling instant restore to the same/new account (even with no user recovery options), local device, or even migration between accounts.
Multi-storage system (and free cloud included)
Embracing the cloud era, GitProtect offers unlimited cloud storage for your backup snapshots. Whether you prefer renowned public cloud giants like AWS, Google Cloud, or Azure, and any S3 compatible storage or on-premise data store – feel free to bring your own (even multiple locations). Add many storages to replicate backups and meet the 3-2-1 backup rule.
Data migration and management
GitProtect excels in accommodating diverse organizational needs. With its multi-account support feature, managing backups for multiple Jira instances becomes a breeze (and so does migration!). Move Jira data and configuration from one project to another, or migrate between various Jira accounts. Separate out projects or consolidate different Jira sites into one. Easily copy project configurations from Sandbox to Production. What is your use case?
Total Security and Compliance Harmony
GitProtect isn't just about data protection; it's about fortified security and unwavering compliance. Meeting the gold standard of SOC 2 Type II and GDPR compliance, GitProtect ensures that your data is fortified and regulations are observed, supporting you to meet Shared Responsibilities.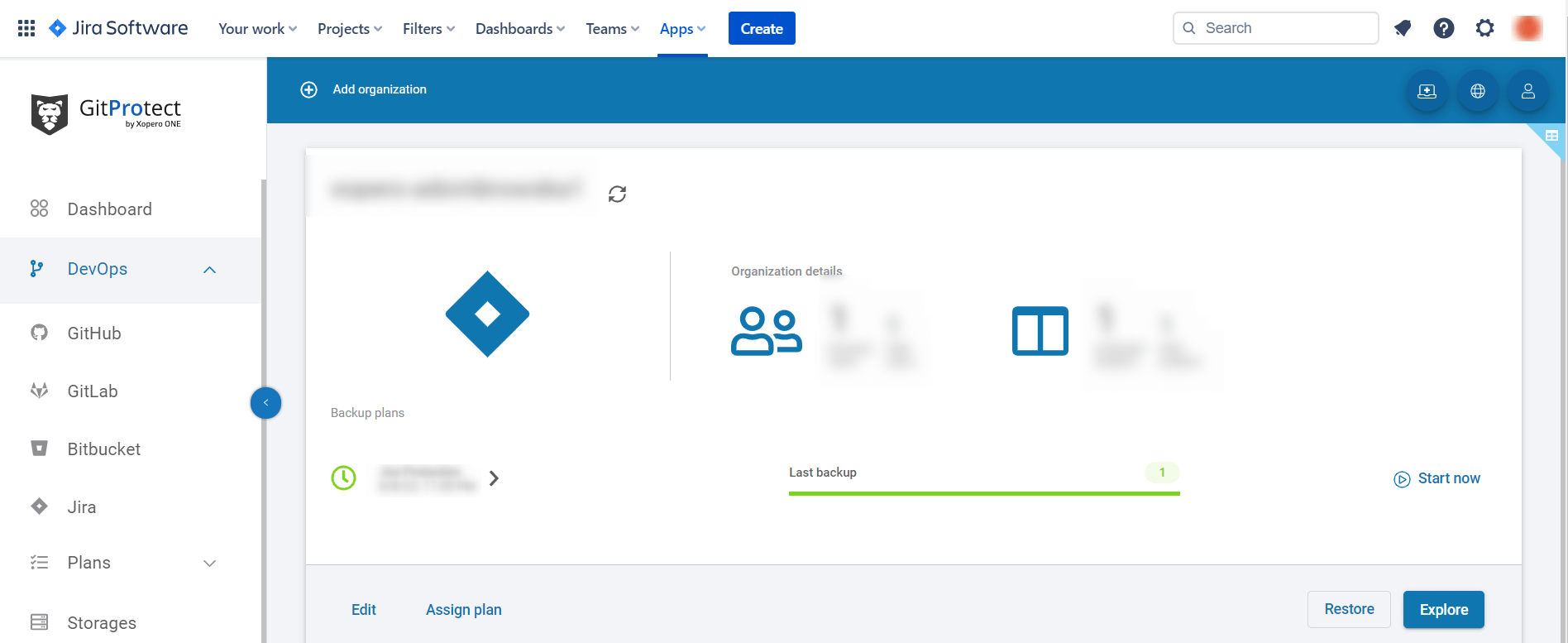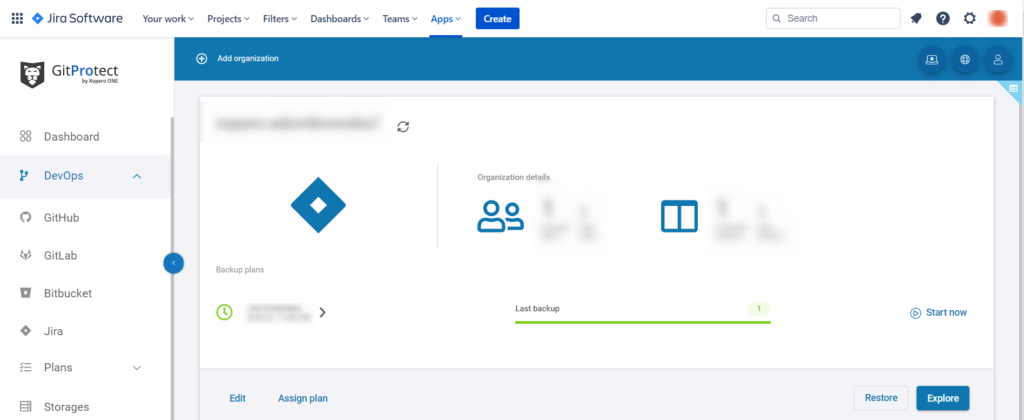 GitProtect is suitable for you if:
You need impeccable data protection, policy-based backup, a flexible scheduler, and many rotation schemes for your Jira data copies.
You seek an automated backup process to minimize the risk of human errors and streamline the backup and recovery process.
Eliminate admin overhead and developers' time with the central management console, automation, and role management (many admins, control over access and privileges)
You value the reliability and redundancy provided by multiple data centers and storage compatibility to safeguard against service outages or unforeseen disasters.
You want to optimize and better manage your Jira data – migrate between accounts, consolidate and separate out projects, copy project configs, and more.
You want to restore and protect the entire Jira instance or need granular restore for daily operations.
You want to restore your data immediately and also expect ransomware protection.
You need to prepare for security certification and audits and Jira data backup is a must-have for auditors and your legal department.
You seek SOC 2 Type II, ISO 27001, and GDPR-compliant DevOps backup software vendor itself.
GitProtect Jira Backup vs. Atlassian Native Backup Tools
Comparison of Functionalities
Functionality
GitProtect
Jira Backup
Jira Backup
Manager
CLI backups
Why Does
It Matter?
Full Data Protection Coverage
✅

Full data coverage: Projects, Issues, Roles, Workflow, Users, Comments, Attachments, Boards, and more.

Full list: here or all Jira tools - Jira Cloud, Jira Service Management, Jira Work Management

❌

Limited data export

Note: If exports include attachments, avatars and/or logos you can make manual backups only every 48 hours
✅

Full data export
Ensures comprehensive data coverage for full data recovery
Simple Deployment
✅

Atlassian Marketplace App

💡 Note: you can also install GitProtect as an on-premise application. The deployment model is independent of where the data is stored

✅

No setup required
❌

Manual configuration required
It saves time and work, and does not require special skills or resources. Additionally, on-premise deployment lets you install it on your own infrastructure if your organization might require so
Backup Automation
✅

Automated backups based on schedule (policy-based backup), Backup on demand (anytime), Multiple backup policies

❌

Manual
❌

Manual
Simplifies backup management with customizable and automated schedules. Backup on demand
Backup Performance
✅

Flexible scheduler (GFS, Forever Incremental Unlimited retention
Compression up to 60% Multi-accounts support
❌

Manual
❌

Manual
With the compression up to 60% you will optimize your storage. The flexible scheduler options allow tailored backup strategies. Unlimited retention ensures compliance and data preservation. Multi-account support in GitProtect offers the advantage of centralizing and managing backups for multiple Jira accounts from a single platform

Retention
✅

Unlimited retention (even more than 365 days)
❌

Backups are deleted from cloud after 3 months by default
❌

Backups are deleted from cloud after 3 months by default
Long-term data retention is one of your duties described in the Atlassian Cloud Shared Responsibility Model. It can be also required in your internal legal regulations, or security certification processes (i.e. SOC 2).
Unlimited retention allows restoring your data from any point in time (even from years ago).

Backup Storage
✅

GitProtrect Free Unlimited cloud storage included.

Or you can add an unlimited number of storages - AWS S3, Google Cloud Storage, Azure Blob Storage, Backblaze B2, Wasabi Cloud and any S3-compatible cloud. On-prem: NFS, CIFS, SMB, Local disc resources

❌

No cloud storage for your backups is provided. Copies must be stored at your cost
❌

No cloud storage for your backups is provided. Copies must be stored at your cost
It has an impact on your infrastructure cost.

The possibility to add more storage instances helps you meet the 3-2-1 backup rule - one of the best data protection practices ever
Authentication and Authorization
✅

SAML integration
SSO login support (Google, Microsoft, GitHub, Atlassian, GitLab)

Ultra-secure authorization (Login, password, personal access token, or app password)
✅

Basic authentication and authorization
✅

Ensures secure and granular access control, enhancing data protection
SAML integration streamlines your authentication by allowing single sign-on (SSO) through existing identity providers, enhancing convenience and security.
Read more about SAML integration in our knowledge base.
SSO login support with major platforms like Google, Microsoft, etc. simplifies access, reduces credential fatigue, and ensures consistent security across services

Data Management and Migration
✅

Migrate between projects
Consolidate projects
Consolidate sites
Move between accounts
Copy project configs
❌

You might need to rely on third-party plugins or custom scripts
❌

You might need to rely on third-party plugins or custom scripts
Seamless data migration between projects, consolidation of projects or sites for efficient management, easy movement of data between accounts, and the ability to copy project configurations, ensuring a smooth transition while maintaining data integrity

Security and Compliance
✅

AES 256 encryption key
In-flight encryption
SSL transfer encryption
Shared Responsibility
Compliance (SOC 2, GDPR, ISO27001)
Data residency choice (US, EU, AUS)
✅

AES 256 encryption
❌

Early Access Program - the release is for testing purposes and Atlassian doesn't recommend to use it on production environment
The AES 256 encryption key, in-flight encryption, and SSL transfer encryption ensure that data remains confidential during transit and storage. The Shared Responsibility model, along with compliance adherence (SOC 2, GDPR, ISO27001), showcases a commitment to data protection. The ability to choose data residency (US, EU, AUS) empowers users with control over where their data is stored, aligning with their regulatory and security preferences

Ransomware Protection
✅

Immutable S3 storage (WORM/CyberHub tech) Non-executable data Limited access to credentials
❌

No ransomware protection
❌

No ransomware protection
The Write Once Read Many (WORM) technology ensures that once data is stored, it cannot be altered, providing confidence that critical information remains unaltered and protected against unauthorized changes. This feature adds a strong layer of trust and reliability, safeguarding your valuable data

Password Protection
✅

Zero-knowledge encryption
Internal password vault AWS Secrets Manager Azure Key Vault
❌

No password protection
❌

No password protection
By employing features like zero-knowledge encryption, an internal password vault, and integrations with authentication platforms like AWS Secrets Manager and Azure Key Vault, users can ensure that only authorized personnel can access and manage their backup data. This enhances overall security, prevents unauthorized access, and helps maintain the integrity and confidentiality of valuable data

Conclusion
In summary, when we consider the advantages and disadvantages of using these backup tools, the choice of software should prioritize effective time management. While Atlassian's built-in backup tools serve as a basic solution for specific users, they may not fully address the complex needs of organizations seeking a comprehensive and dependable backup system. Among the options available, GitProtect Jira Backup stands out for its robust data protection, seamless collaboration, and data integrity assurance. Organizations aiming to secure Jira data and ensure business continuity should consider tools like GitProtect, which align better with disaster recovery policy that requires advanced preparedness.
[LIVE DEMO] How to ensure cyber resilience for your Jira data 🚀
Automate backups and disaster recovery for critical:
📌 Jira Software
📌 Jira Service Management
📌 Jira Work Management data
[FREE TRIAL] Ensure compliant Jira backup and recovery with 14-day trial 🚀