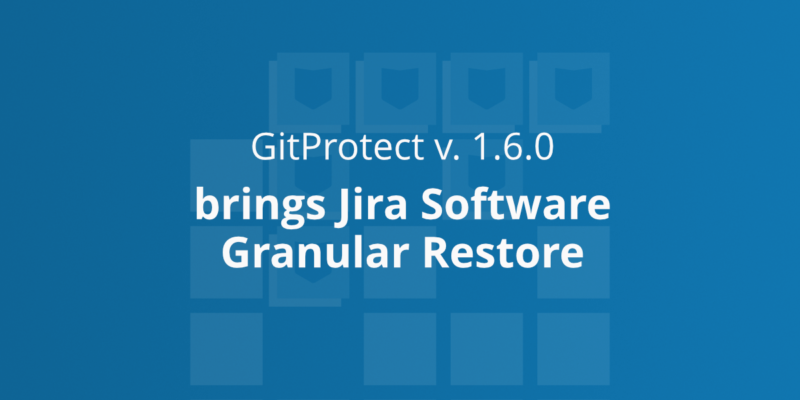 GitProtect v. 1.6.0 Brings Granular Restore For Jira Software, GitHub Team & GitHub V2 Project Extended Support And More
Welcome to the extended reality of the GitProtect 1.6.0 release! What great features are awaiting you? We've been trying to hint about some upcoming changes in the Jira restore process to you earlier … And now we are more than happy to announce the official launch of the GitProtect Granular Restore for Jira Software.
[LAUNCH WEBINAR] Jira Granular Restore to eliminate Oops-moment 🚀
– Nov. 16, at 6 PM CET/10 AM PT
Yes, from now on for Jira Software you can select from two restore scenarios:
Disaster Recovery: in this model user can restore the entire Jira organization. This is your best way out of very extensive data loss usually caused by ransomware attacks or service provider downtimes, like the one that Atlassian experienced in 2022.
Granular Restore: this model provides a user with the possibility to restore only selected and very specific data. This one is your go-to solution for smaller-scale data loss, usually caused by a human error or some malicious activities.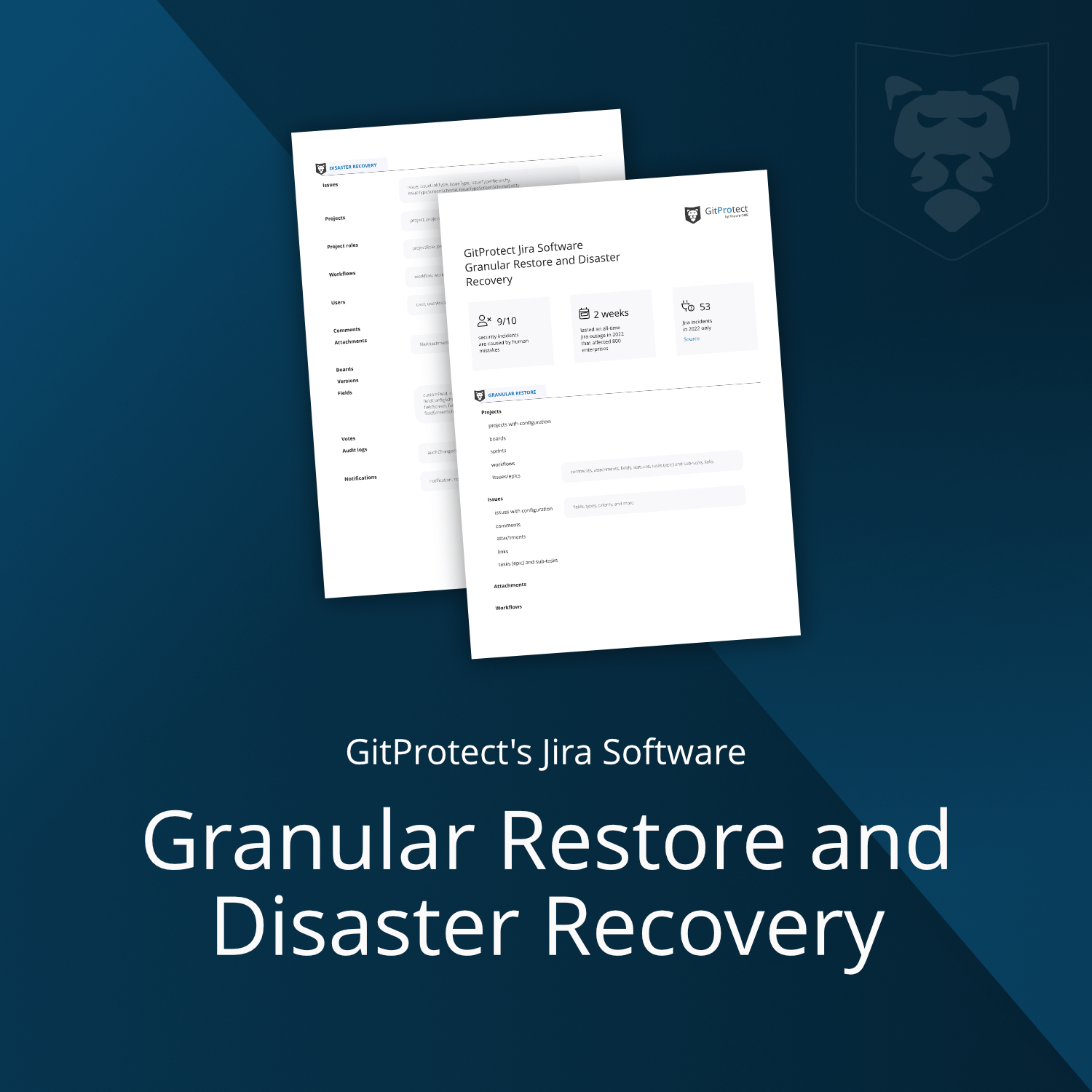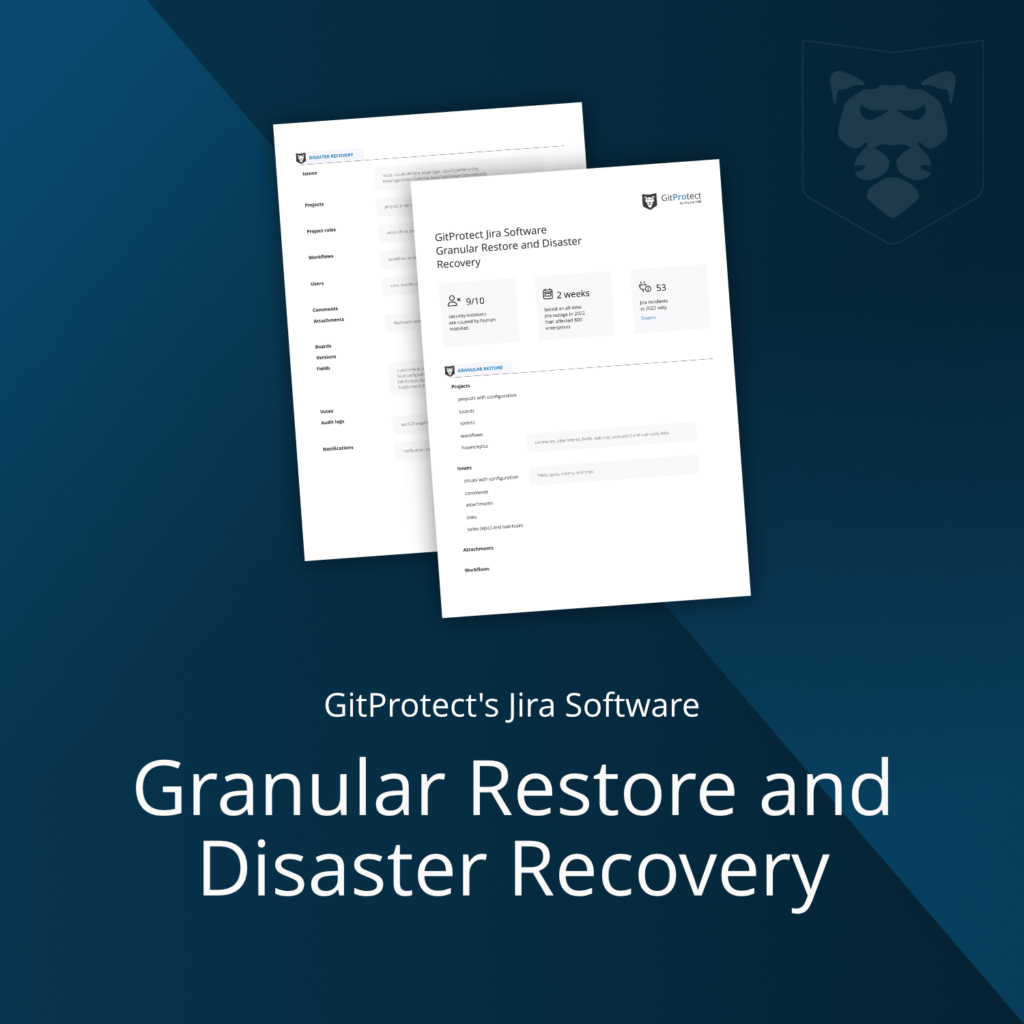 How does GitProtect Jira Granular Restore work?
Users can browse backed-up data and restore only chosen objects like projects, issues, attachments, and workflows. This way you can literary restore lost data in the blink of an eye. Our Granular Restore is designed in a way that you get all the connected data also restored during the restore operation. There are three possible restore destinations: data can be restored to the same Jira account, a new one, or to the device.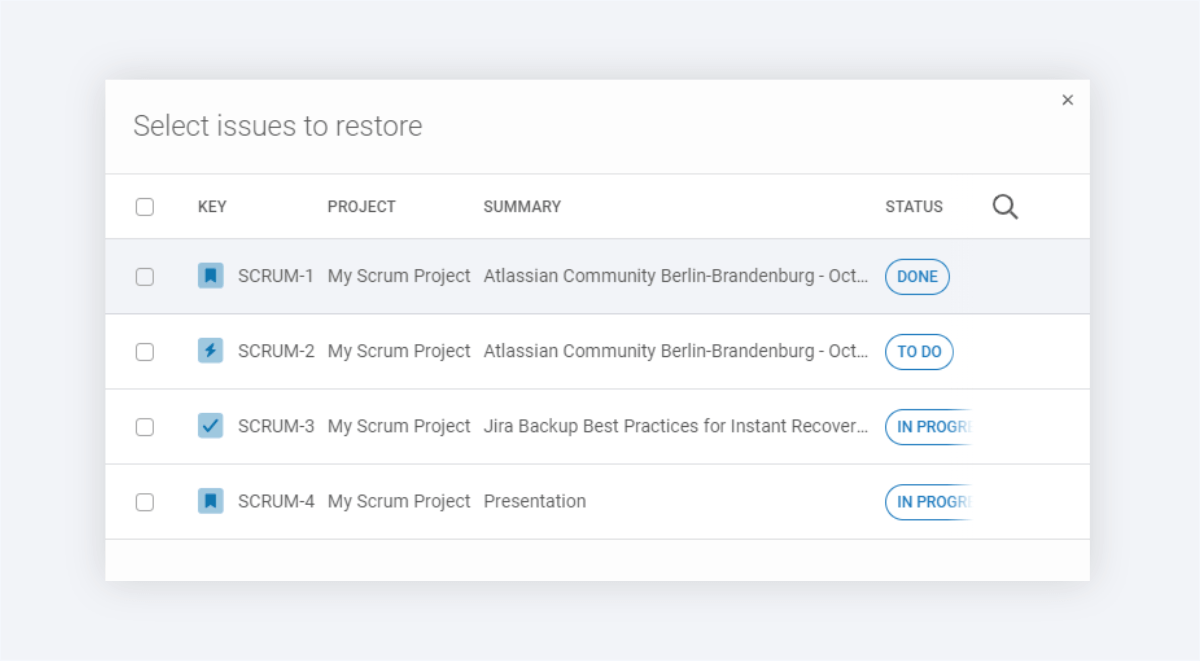 Now, let's dig into the details…
Restoring projects
When restoring the entire project, GitProtect will also restore:
all issues/epics included within this project,
boards,
sprints,
releases,
features.
As mentioned before, a project can be restored as a new entity to the original location or to another organization. There is also an option to update an existing project. What's important, in this specific scenario, a project configuration is overwritten, deleted data is restored, description is updated but no Jira data will be deleted.
Restoring issues
A user can restore selected issues (or all of them) to the original or a different project, or update an existing one. It is also possible to restore issues from various projects to a single project instead.
What types of data can be restored?
summaries, types, descriptions, priority,
comments,
attachments,
subtasks and tasks within an epic (when the epic is restored),
internal linking within tasks (if the target tasks exist).
Moreover, the user can specify to which project should lost issues be restored, and if attachments and subtasks should be restored as well.
Restoring attachments
Jira Attachments have a bad reputation. This is due to the fact that they tend to get damaged or even disappear in some unknown circumstances. Hence, leaving a user with a difficult problem to fix. However, from this release on, GitProtect offers a simple solution as with granular restore in place a user can recover selected attachments directly to original tasks or to a device.
Restoring workflows
GitProtect Granular Restore always allows recovering workflows as a new element to the organization selected by the user. After a restore process is completed, a user can define which projects should be using this workflow from now on.
From the 1.6.0 release, GitProtect fully supports granular restore for the Jira Software. In the case of Jira Work Management and Jira Service Management, the main restore option is still the GitProtect disaster recovery. However, we plan to extend the granular restore to these products in the future – so, stay tuned!
What's more?
Extended support for the GitHub team restore: users are able to restore a team to any preferable organization, no matter if the team already exists in it or not.
Extended support for the GitHub V2 Projects: another great news for our GitHub users, now GitProtect is linking repositories, issues, and open pull requests with V2 Projects.
Storage capacity notification: you probably noticed that alerting and reporting play a big part in GitProtect security monitoring. Hence from now on, after reaching a defined storage capacity a user will also receive a mail and/or Slack alert.
Encryption badge: this new badge allows you to easily identify backup plans with turned-on encryption. You will certainly spot it while browsing backup plans, and also on the plan dashboard, and in task summaries.
Help Center – a new element in the menu: another small change that is easy to spot, as you can literally catch it just after login. We know, from good sources, that this small update will be loved by our new users. Why? Help Center offers a fast way to find answers to the most critical topics: what are DevOps backup best practices, use cases, answers for the most common questions, and so on.
and many more improvements!
[LIVE DEMO] How to ensure cyber resilience for your Jira data 🚀
Automate backups and disaster recovery for critical:
📌 Jira Software
📌 Jira Service Management
📌 Jira Work Management data
[FREE TRIAL] Ensure compliant Jira backup and recovery with 14-day trial 🚀