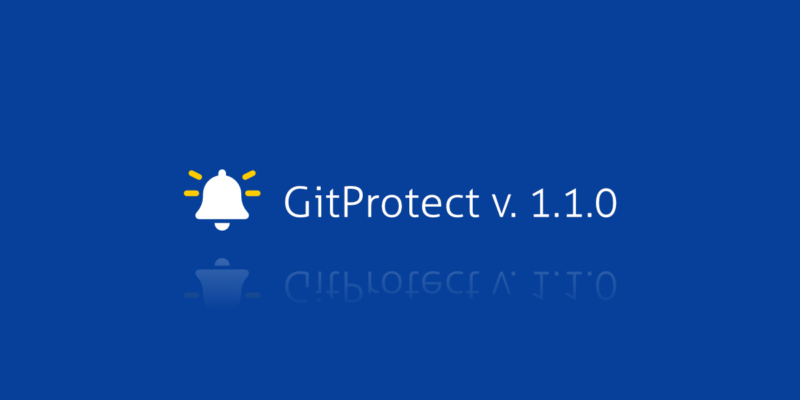 Update to GitProtect v. 1.1.0 and Get Access to Brand-new Features
Quite a busy week is behind us and today we can share with you the newest GitProtect.io release! The version number is 1.1.0 and it brings fine new functionalities – LFS backup that you probably were waiting for, some new, instant restore, and DR options that will let you keep on coding even in the event of extreme failure. Trust us, you are going to really like them all!
See for yourself – simply log in to your account and check all changes! And if you don't know our new solution yet – start a free 14-day trial now.
What's new?
Restore directly to your local machine

Finally, you can restore copies of your repositories directly on your local machine and can keep on coding even during serious GitHub, Bitbucket, or GitLab outage, when your cloud infrastructure is down or you don't have an internet connection.
Restore multiple git repositories

Downtime? Service outage? Any need to instantly restore your entire Git environment? We are the first in the world vendor that allows you to restore multiple GitHub, Bitbucket, and GitLab repositories at a time. Choose repositories you want to restore, see the most recent copies or assign them manually and restore to your local machine or cross over to another hosting service provider. Disaster Recovery made easy.
"Restored by GitProtect" label

From now all pull requests and labels restored with GitProtect.io will get a special, "Restored by GitProtect" label in GitHub. It gives you better control over your copies, restore, and backup management. Show other users that you care about the security of your repositories and have your git backup in place.
But there is more. GitProtect.io v. 1.1.0 provides also:
LFS backup of GitHub, GitHub Enterprise, and Bitbucket Cloud
GitLab SSO
Reduced memory usage when backing up Bitbucket Issues.
GitLab variables backup and restore
Restore the GitLab repository to the selected group/user