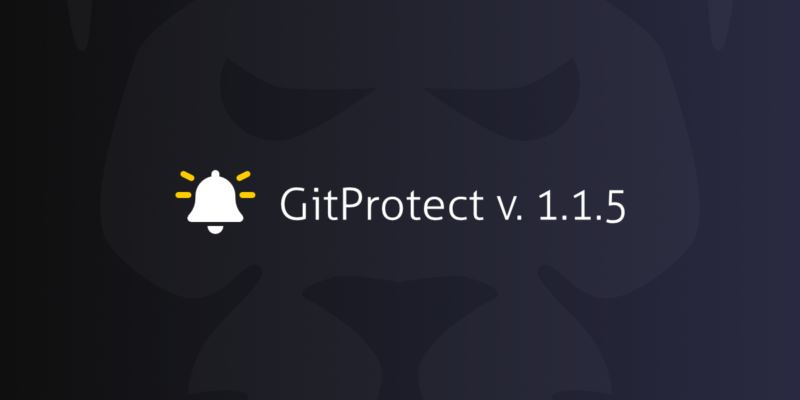 GitProtect.io v. 1.1.5, the new, better, faster – update now
The new, better, faster… Yes, we have just released a new update. Please meet GitProtect.io version number 1.1.5 which brings fine new features!
Try them for yourself – simply log in to your account and check all changes! And if you don't know our new solution yet – start a free 14-day trial now.
What's new?

Backup of GitLab groups and subgroups
Do you use groups in GitLab to manage projects and permissions within your team? Maybe you have a complex structure and need to manage subgroups? If so, we harry up with a piece of good news – with GitProtect v. 1.1.5 you can backup your groups and subgroups. Simply add your GitLab organization to see your groups in a dedicated view where you can access such information as the number of related subgroups, backup status, last and next copy date. You will see also a restore button to quickly recover your group-related data: settings, members, labels, badges, variables, and more.

Enterprise-level management improvements
Enterprises and big companies experience significant benefits from their repository and metadata backup. Keeping that in mind, we have prepared a number of improvements for large organizations that will allow you to reduce management overhead, speed up the backup process, limit bandwidth usage, and more.
We added the possibility to use additional GitHub/Bitbucket/GitLab accounts to perform backups, optimized the registration process, eased synchronization of accounts, and added greater customization options. With a dedicated schedule, you can define at what times the synchronization with your GitHub/Bitbucket/GitLab account should be performed to have better control.

Connect your service with login and password
We added a possibility to connect your GitHub/GitLab/Bitbucket account with GitProtect.io using login and password, personal access token, or app password – depending on your git hosting provider. This allows you to have more control over the permissions you share. Please note that in some cases it might limit the capabilities of our software.

Automated operations
GitProtect.io v. 1.1.5 brings the ability to perform some automated operations using REST API, such as:
downloading the list of your GitHub/GitLab/Bitbucket organizations,
downloading the list of repositories,
synchronization of the repositories list,
deleting the repository from the GitProtect.io system,
adding the repository to the backup plan,
deleting the repository from the backup plan.
So basically – no matter if you manage your repositories in GitHub, Bitbucket, GitLab, or your internal management system, you can communicate with our system and perform the above automated operations.

Transparent Slack notifications
Do you use Slack? Turn on backup plan summary notifications and receive them directly to your Slack account. Define what information should be included: successfully finished tasks, tasks with warnings, failed, cancelled, or not started tasks – all of them or chosen ones. Have all the details at your fingertips.
P.S. And if you have been missing Bitbucket DC and GitLab LFS backup support – it's here! Login to your account or start a free 14-day trial now.