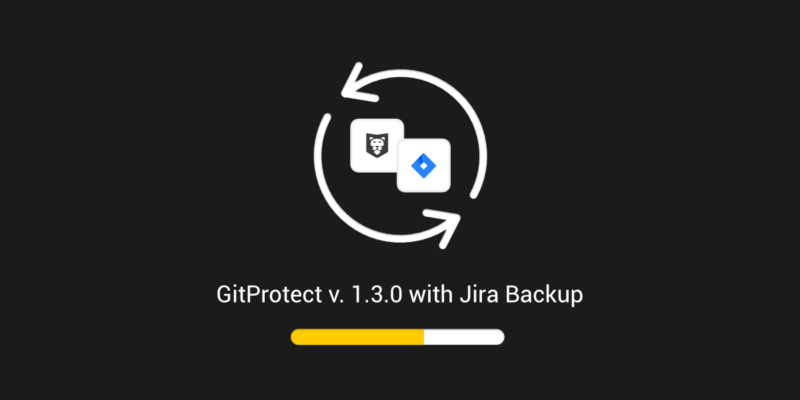 GitProtect v. 1.3.0 Is Here with the 1st PRO Jira Backup on the Market
GitProtect.io version 1.3.0 is already available and includes a series of ground-breaking features and improvements. Let's take a look at the most remarkable ones:
Release of the year: Jira Backup & Disaster Recovery 🔥
We are proud to say that GitProtect.io is the first on the market Jira backup & Disaster Recovery software that protects the entire Jira SaaS environment including Jira Cloud, Jira Service Management, and Jira Work Management. Now you can easily and automatically protect all your Jira data, including projects, users, issues, workflows, comments, attachments, boards, and more. Just add your Jira account (one or more) and set up a backup plan to automatically protect all your data. You no longer have to worry about the safety of your projects, as copies are made automatically, according to the planned schedule (fully customized!). Then, you can easily restore all your Jira data from a specific point in time to the same or new account – even to the free Jira account with a no-user recovery option (to bypass Jira's licensing limits).
And of course, you have access to all GitProtect's groundbreaking features to protect your Jira data.
Start 14-day trial or log in to GitProtect
Enhanced GitLab protection – snippets and project's topics metadata
From this release, GitProtect supports two additional types of metadata – snippets and project's topics. While configuring a backup plan, you are able to decide whether they should be included in the backup, as is the case with other metadata. It's that easy – check for yourself!
Direct support for the Google Cloud Storage
GitProtect is a unique multi-storage system that now fully supports the Google Cloud Storage integration. How to add Google Cloud as your data store? To connect it provide authentication data, select region, and bucket. That's all! And if you have previously added Google Cloud as S3 compatible storage, it will automatically change its type – you do not need to take any additional steps.
What's more?
We have made GitHub backup even faster than it was before – again 🙂
Now redundant data is excluded from the storage replication
Pre-, post scripts are available within the backup configuration
Improved throttling support for GitHub copies,
and many more.
Ready to discover all new features? Start 14-day trial or log in to GitProtect now.