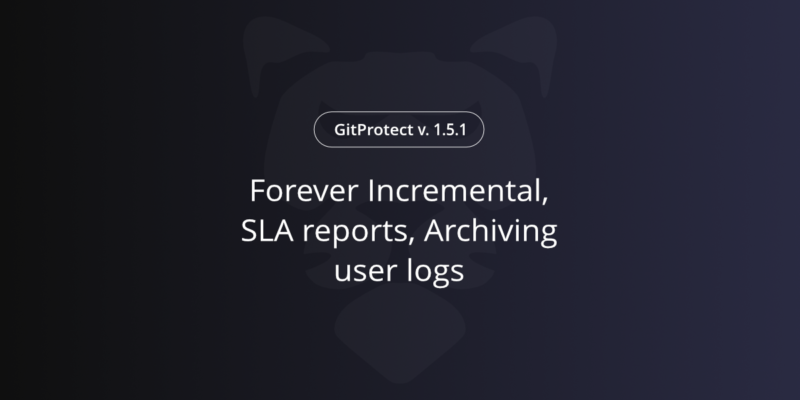 GitProtect v. 1.5.1 Features Forever Incremental, SLA Reports, Archiving User Logs
We present to you the new version of GitProtect – 1.5.1, and along with it… the long-awaited backup plan scheme – Forever Incremental! Amongst the novelties, you can also notice the SLA Reports for improved security control, log archiving, and several other enhancements aiming to speed up the app's operation.
Forever Incremental
It's finally here! The long-awaited scheme Forever Incremental has made its debut and is already available for you in the settings of the backup plan. Through its utilization, you can be sure that copies made will always be incremental copies. This means that each subsequent one will contain solely the modified part of the data in comparison to the previous copy. The only full copy in the entire chain will be the first one. In practice, this allows for the backup to happen even faster!
From now on you can use it for copies of:
GitHub, Bitbucket, and GitLab repositories and metadata (including the self-hosted services),
GitLab groups,
Jira Software, Jira Work Management, and Jira Service Management.
SLA Reports
You are most likely familiar with our SLA section; since you see it every time you log into GitProtect. Starting from now, on its basis we will prepare monthly SLA reports for you. These will inform you in a very transparent and statistical manner, whether and in what percentage of your resources were secured in a selected time frame. The reports are available for downloading through the dashboard, and SaaS users can enable email notifications to be informed when a new report has been generated. Are you preparing for a certification or a security audit? Well, from now on, it will be much easier!
Do you wish to find out what your report looks like? Go to the SLA Section and click the Export button (the red one). You will be able to download reports from the last 3 months.
Archiving User Logs
GitProtect provides very detailed logs, and this results in a huge amount of information available to the user and on top of that a larger database, that stores these logs.
In order to increase the efficiency and clarity of our solution user logs will be periodically divided into smaller databases (containing logs from the past 2 months by default), to help you find the latest events. In addition, you can specify how often and from what period of time these logs will be archived. It might seem like a small change but it will allow for a significantly easier control of the actions performed in the system.
What else?
Support for the new Backblaze region – US East.
UX improvements.
---
Are you switching to a DevSecOps operation model? Remember to secure your code with the first professional GitHub, Bitbucket, GitLab, and Jira backup.
---