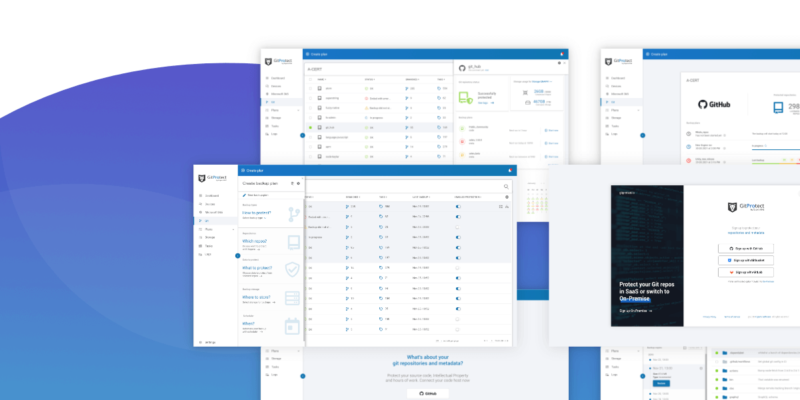 GitProtect.io is now available on GitHub Marketplace
GitProtect.io, our fully manageable GitHub and Bitbucket software is now available on the GitHub Marketplace – check it out here. For the first users, we offer our Enterprise plans for FREE. Be among the first users and benefit from this special offer. 
Choose the On-Premise Enterprise FREE model if you want to install it directly on your device. If you want to use it in the Software-as-a-Service (SaaS) model – Cloud Enterprise FREE plan is the solution.
Please note that on-premise and cloud stand here only for deployment models, not for storage. So whichever plan you choose you can store your copies locally (SMB network shares, local disk resources – NAS, SAN) or in the cloud (GitProtect.io Cloud, AWS, and all S3 compatible clouds, including Azure, Wasabi, Alibaba Cloud, or Google Cloud Storage). In both plans, you get 10 GB of GitProtect Cloud Storage for FREE (but you can add your own storage if you wish).
Both plans give you:
Free backup of up to 10 repositories, fast recovery, and super-friendly management
Web-based central management console
Plan-based backup, long term-retention, GFS, audit logs, military-level security, and more…
Point-in-time, granular, and cross-over recovery features.
How to get it?
Check out GitProtect.io on GitHub Marketplace listing, choose the preferred plan, and click "Install it for free", review the offer, complete free order, and let's start. Then you will be redirected to the service directly (Cloud) or to the website with installers (On-Premise).
On the email address associated with your GitHub account, you will receive a unique link to your service (Cloud) or activation key (On-Premise). Follow the instructions in the email.
In the On-Premise plan, don't forget to install your backup agent.
Add your organization, assign a predefined backup plan or create your own to start protecting your repositories and metadata with GitProtect.io!