GitProtect.io, the professional backup and recovery software, has been available on GitHub and Atlassian Marketplaces since July this year. With the integration, more developers are able to automatically protect repositories and metadata from any event of failure, eliminate downtime, save time and reduce scripts maintenance costs, ensuring instant recovery.
GitProtect is a part of the Xopero Software – a leading backup vendor trusted by T-Mobile, Orange, Subway, ESET, and more. Now the company helps developers, DevOps, and security professionals around the globe protect their source code and effectively manage data protection.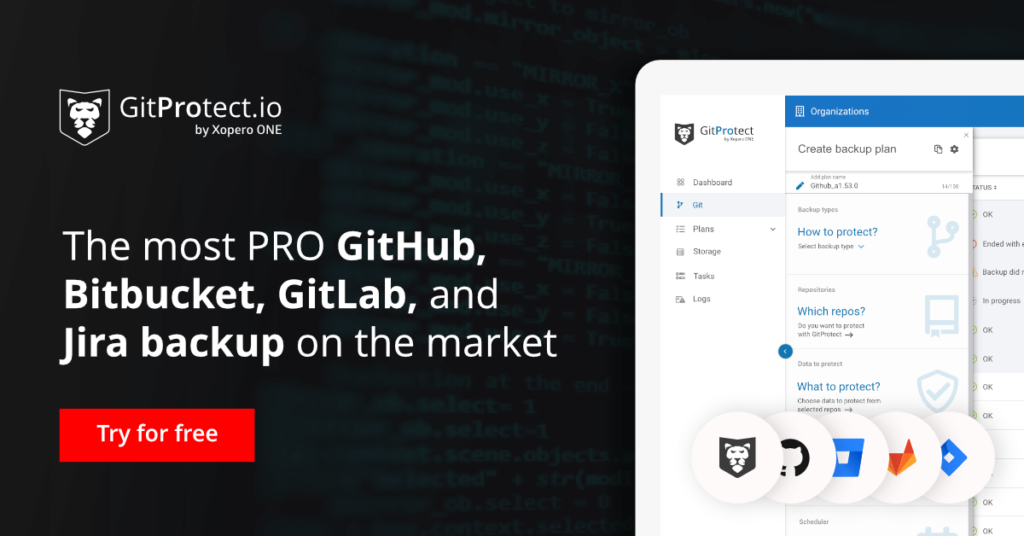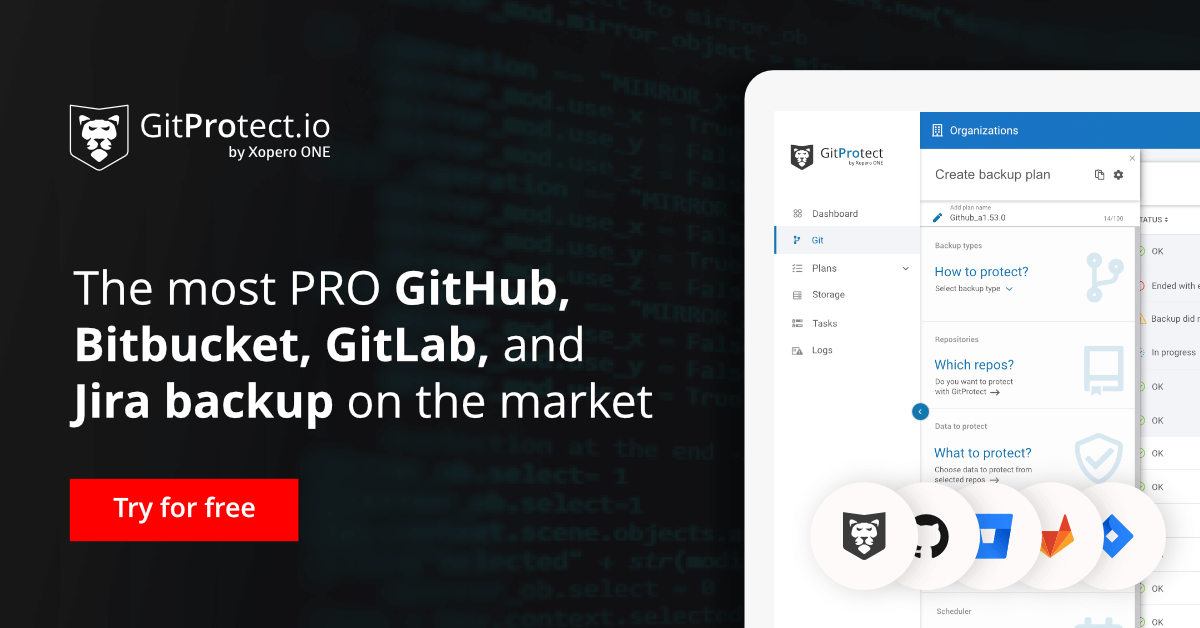 The team has been working hard to bring the most professional backup features and with the last update GitProtect.io has been empowered with:
Free GitProtect.io cloud storage for all users included – whether you choose SaaS or On-premise deployment model, store your copies in the secure GitProtect.io cloud for free or assign your own storage to replicate backups.
Advanced backup plan configuration features – long-term retention, GFS rotation scheme, backup window, advanced compression, and encryption settings.
Advanced reporting and Slack notifications – besides email notifications, detailed audit logs, transparent dashboard, and statistics, now you can set up Slack notifications to stay up to date with your source code protection while working and react immediately.
Multi-storage system – Store your data locally or in the cloud (GitProtect Cloud, AWS S3, any public cloud compatible with S3). With the possibility to add a nearly infinite number of storage instances, you can replicate backup plans and store the same copies in multiple destinations.
Multi-level management – add new accounts, set roles, and privileges to share responsibilities with your team and have more control over security.
Flexible restore options – fast, point-in-time, granular restore to the new or the same organization.
Scalability features – mass deployment, backup spread in time, automatic adding new repositories to the plan – now you have access to plenty of features that let you scale infinitely.
Every week on Tuesday at 5 PM CEST or Thursday at 8 AM CET the company conducts a special webinar where it presents the most unique features and product DEMO. Now the first 10 people who sign up with this LINK will receive a free GitProtect.io Cloud PRO license to protect up to 25 repositories.
You can check GitProtect.io on GitHub Marketplace, Atlassian Marketplace, or the official GitProtect.io website.